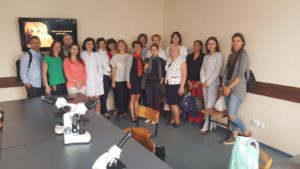 Oral pathology is a discipline at the border between pathology and dentistry, studying diseases of mouth, jaws and related structures such as oral mucosa, teeth, salivary glands, temporomandibular joints, facial muscles and perioral skin, as well as the oral manifestations of systemic diseases.
In Europe, its origins are back in 1940s', related to the efforts of Danish dentist J Pindborg, a pioneer in oral pathology and a visionary, realizing the need of an international forum for this quite narrow academic and medical field. Following his steps, Scandinavian Fellowship for Oral Pathology and Oral Medicine (SFOPOM) puts considerable efforts for establishing common criteria and a joint curriculum for teaching of oral pathology in order to provide to the society the best quality trained dentists (e.g. SFOPOM: guidelines for oral pathology and oral medicine in the dental curriculum, Eur J Dent Educ. 2012 Nov;16(4):246-53).
In Norway, as in all Scandinavian countries, the dental students receive systematic education and training in oral pathology and have competence in conducting several diagnostic tests, such as tissue biopsies and microbiological samples, as well as interpreting the results and taking action accordingly, reducing in this way the burden on the specialized clinics.
In Eurasia countries, oral pathology is at its commencement and its teaching to dental students is sporadic and spread over several disciplines, such that most of the patients are sent to specialist clinics even for small lesions or small biopsies that could be done by a general dentist with adequate knowledge and training in oral pathology.
This project aims at establishing a joint standardized oral pathology teaching curriculum aligned between the collaborative institutions and to initiate common research activities in this field.
The vision is that this project will create the basis for developing a specialized teaching workforce at collaborative institutions and will bringing awareness on needed services that could be provided to the community in the field of oral pathology by general dentists.
Student and staff mobility is one of the key strategic elements of this project and it is meant to lead to knowledge transfer, ensured quality and standardization of research in oral pathology.
The project is designed to address several levels: academic, administrative and technical laboratory level, in order to build a sustainable and harmonized higher education environment among collaborative institutions.
This project is financed by The Norwegian Centre for International Cooperation in education (SIU) – EURASIA PROGRAM project CPEA-LT-2016/10106.